Story of Seasons
Tricks, Tips, and Charts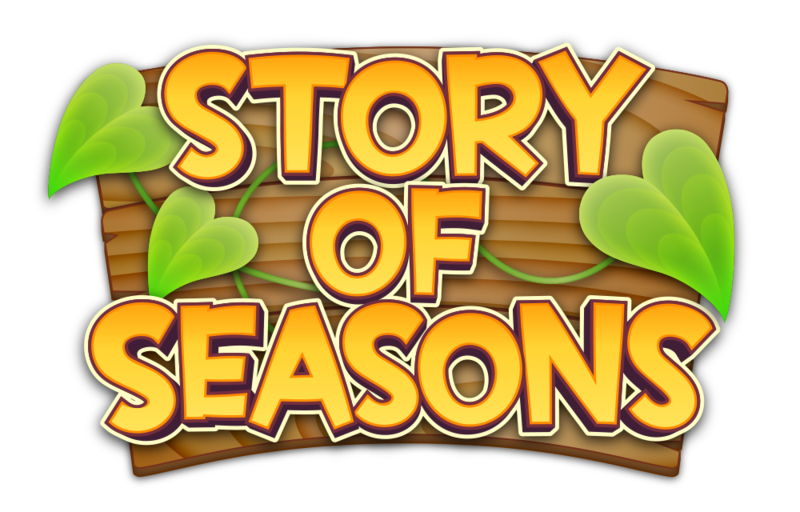 Jump To:
Making Money
Tips and Suggestions~
There are a few different methods that I managed to get my money up, especially with the early game. Just a few ways to take advantage of certain parts of the system that might not be completely obvious.
Early Game
Buy all the Carrots! After they become available in the General Store, each day buy out all of the Carrots (140G). Go home and cook the carrots into Carrot Juice (156G). Sell what you've made for a 16G profile per carrot. This may seem small, but doing it on a daily basis will help greatly especially early game. This also helps towards unlocking Tropical Country.
Sell the Bugs! You can horde these for conquest, but make sure you're selling them all - they're not a big profit but they do help early game with getting you a bit of side cash so you can go buy those carrots *winkwink*
Cook Certain Fish! Some of the smaller fish will sell for more if you cook them first. Fish: Recipe:
Cook Lots! I won't list it, but almost everything sells for more after being cooked - milk, eggs, crops, etc. Always keep a few of your highest star quality items, and cook the rest that you can spare to sell.
As Soon As Available
Golden Flax! The biggest and most common money-making method in the game is to simply buy loads of flax, plant, harvest, then turn into Golden Linen Cloth with the Sewing Studio. No matter the level of the flax (though higher is better) it has a large profit margin. I do suggest picking a color (Golden or Silver) and sticking to it for storage space purposes.
Silver Cotton! This is basically the exact same as flax, just that cotton seeds aren't available until a little later.
Pottery Time! This is a bit more of an "investment" rather than an instant profit and requires a little money to get started. First you'll need the Pottery Studio. Next you'll buy out all the Dried, Soft, and Solid Soil from Silk Country (or a balanced amount of the three if you're low on funds). Go to the pottery and basically make as many Big Giant Jars (very last option) as possible (each time will be max 30 but it can hold up to 30 different jobs so technically you can be working on 30*30=900 at once). Once a day make your "rounds" in the pottery starting at the left station, moving any to the furnace in the back, and lastly taking those done in the furnace to the painting table (while collecting any that have finished at the painting table). This is a good method of getting money since there's a large profit when you compare the cost to buy 1 dried, 1 soft, and 1 solid soil and the selling price of 1 jar. Again, the downfall of this method is that the return isn't instant.
Increasing Star Quality
!Fertilize!
After not noticing this until later and even then not coming up with a good method for awhile, I figured I might add something I wish I'd known when I first started caring about crop level.
Planning
Decide ahead of time how to layout the crops so that you know which need fertilizing.
Take note of which crops are re-harvestable (regrows again in 3-4 days). When laying these out, leave plots open next to them to plant the next level. You don't want to keep fertilizing the first version because you won't grow the star level as fast then.
Always check the number of days it'll take the seeds to grow and compared to how many days left in the month - some crops will only get to grow once and then you'll run out of time if you try to plant and grow them again.
Water star-leveling crops only once a day so that it'll take them longer to grow which gives you more days to add fertilizer to increase the star level.
Always make a list and double check that you have 1 of each crop planted (I personally made the mistake in Summer where I planted pumpkins in the leafy field but completely forgot to plant one at home for star-leveling).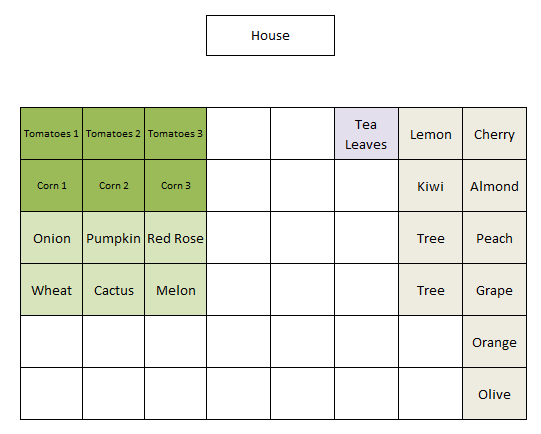 How I setup my crops to keep track of which I'm working on the star quality of is similar to this diagram to the left.
I start by checking which crops will grow back and make sure I put them in a vertical row so that I plant the newer, higher star seeds horizontally - this way I know that I should be fertilizing Tomatoes 3 and ignoring (for fertilizing) tomatoes 1 and 2 since they'll just be re-growing and the star quality won't grow as quickly as just replanting the crop.
Next I kind of just bunch together the one-time growing crops. Once one of those crops finishes growing (Onions, for example), I'll go get 1 seed from the batch and replant it usually in the same spot (though not required since these are one-time growing crops). This allows me to know that I just fertilize everything in that area and I don't even have to pay attention to which plot is which crop.
In the brownish area on the right is where I plant all my trees. I honestly suggest you do this on your home lot since you'd waste a lot of time if you wait for the tree lot to be available and for you to win it. Again, this way everything you need to fertilize is on one screen and you can just go around fertilizing everything that needs it. I do suggest that once you have max-star for all the trees that you get seeds and plant them either in your second personal field (you'll understand which I'm referring to in Winter Yr1) or in the orchid. I personally planted them in my second field with 3 each and in order of the seasons so all the trees that can be harvested in summer are all next to each other with 3 each so I get a nice hefty harvest.
Lastly, near the tree area plant tea leave. Once these are maxed you can just plant all 5-star-level tea leaves in the Tea Leaf Field which will be beneficial for fulfilling requests and selling crops to unlock Tropical Country.
Saving
Manipulating
There are a few instances when saving is your best friend and make manipulating the game a lot easier...
Events! ALWAYS save before events. Depending on which one, you might even want to allow for some more time - cooking festivals, for example; I'd suggest saving a few hours ahead incase you need to make a different dish. Fashion shows you'd want to save before those so clearly if your first attempt doesn't win, you can change the outfit your model wears. The Fishing Tournament is completely luck based most of the time, so saving before and trying again is a good idea. And so on for the different events and festivals.
Fish Hatchery! Always save just before removing the fishes - sometimes the hatchery will break, while other times it will not. If you choose the option to removal all but one and the hatchery breaks, you lose a fish. If you saved, you can reload and choose to remove them all... Oddly enough, this sometimes leaves the hatchery intact. So depending on how many times you want to read file, you can make hatcheries last far longer and avoid losing any fish.
Sunday Night! If you want to manipulate (to some degree) the "Recommended Selling" at the Trade Depot, save Sunday night (or technically Monday morning) before going to bed. Then go to sleep, wake up and check the recommended selling at the trade depot - if you like, continue your daily routine; if you don't like, just reset. This might require a lot of resets if you're looking for a specific vendor to recommend a specific type.
Safari Mine! Clearly this is a place to save before AND WHILE you mine. Basically save before, mine the first item - if you like it, save again; if you don't, reset till you get something you like and then save. Rinse and repeat until it says you can't mine anymore for the day - my gem collection increased nicely since I literally got a gem each time (because I'd reset if I didn't... haha). Now that I have enough of each gem to last for awhile, I focus more on just getting the rarer items like gold, platinum, etc.
Hording
Items to Hold Onto
There are certain items in the game that you just almost never want to sell. These are usually items that you either need hundreds of later on in the game, or that you need for a lot of patterns/blueprints. Some of this is just personal preference, but I do explain why for each so that you can decide yourself what to hold onto.
Branch/Lumber! Though this might or might not be obvious... you'll need lumber for construction of blueprints for general use and, more importantly, for unlocking Ice Country. Even if not for blueprints, you'll need 600 Lumber for the large tree expansion to the Safari and another 100 for the boulder expansion. Always a great idea to hold onto all of these even when it seems like too much.
Rock/Stone! Exact same reason as why you'd hold onto lumber - blueprints, safari expansions, and for unlocking Ice Country.
Weeds I know, I know, this might not seem important... but I promise you, saving your weeds will make you happy in the long run. First, weeds can be used to make fertilizer which you'll be using a LOT of each day if you're leveling crops and trees at the same time (I'd almost always run out, especially on Sundays when I couldn't buy more from the General Store). Secondly, you need 6 weeds for crafting the blueprint, Hedge; this matters ENORMOUSLY because you need to craft 140 Gardening objects (Seedling mode, so more for normal) and once you've used your Small Lumber and Lumber on all the other requirements, your Gardening is going to be sorely lacking. If you'd been holding onto your weeds since the beginning, crafting the Hedge (Twigs xX, Weeds x6, Soething xX) will be a big help in getting the Gardening objects completed.
Relationships
Love and Villagers
Depending on who and what you're interested, it's probably a good idea to think about making a habit of trying to increase affection with the specific people instead of waiting until later in the game. ESPECIALLY if you're trying to reverse-dating and reverse-proposal.
Gifting Early! Once you're a little closer to narrowing down who you might want to marry (or if you just want to play it safe with all the candidates), start giving them gifts as soon as you have something they like and you can spare it - if you want the reverse-dating, where the guy/girl asks you to be their GF/BF, you'll need to have given them 100 gifts. So at the super earliest, it'd take 100 days (and that's assuming you're lucky and timed it perfectly so that the 100th day is on a Saturday/Sunday). For reverse-proposal, where your now BF/GF asks you to marry them, you'll need to have given them 150 gifts with 30 of those being their favorite gift.
Reversals! If you're going for the reverse-dating/proposal, make sure you get 30 of his/her favorite but after that it doesn't matter if it's just like or loved items because by time you've given them 100/150 items, their flower level will be high enough. Thus, don't freak or over-worry about the friendship level too much since it'll basically come naturally.

Nadi Tips!

If you're thinking about considering Nadi, never sell any of the Grass Drinks you receive from Silk Country. You'll get these often as rewards for Silk's requests. Especially if you're sure you want to marry him and/or have the reverse-proposal, you'll need at least 30 of these for him. I suggest doing all requests with Grass Drink reward if you're interested in Nadi. The recipe for isn't for sale until you've unlocked the traveling salesman.
His easiest "like" gift is Fish Feed that you can get from the General Store if you want to use this for when you don't have Grass Drink.
His easiest loved gift is Bouillabaise, made from basically any fish. Be sure to fish and save those for making this recipe if you don't have Grass Drink but want to give a little more than just Fish Feed.

Outfits! If you're interested in unlocking all the patterns, or creating all the outfits I suggest at least talking to or giving something small to Witchie and Elisa since the two of them have a lot of outfits you can win the pattern for if you have their FP up high enough.
Generally Everyone! Always participate in contests or events even if you're going to lose - this is a nice way to get the villagers' FP points up without really focusing on the individuals.
Spreadsheets, Lists
Excel Helps
I've realized that while playing certain games, having excel spreadsheets that I've printed out helps GREATLY. Because of this I've decided to share with you a few of the spreadsheets I created and printed out to use for various reasons.
Outfits! This spreadsheet lists each outfit in the game along with various other information:


| ### - Outfit Name | When/Where | Basic Sell Price | Theme | Style | Color | Materials | Liked By |
| --- | --- | --- | --- | --- | --- | --- | --- |
| 001 - Farm Boys' Duds | Auto w/ Sewing Studio | 6000 | Spring/Summer | +2 Casual, +4 Functional | +2 Yellow, +8 Blue | Blue Cloth, Orange Cloth, Yellow Cloth, White Cloth | No One |



Item List! This is basically a list of the items you can sell and have appear on your shipping logs. For those that like to complete lists or just like to keep track of what they've already sold, this list just provides a nice crossing off list. This way you don't have to stop or back out of whatever you were doing to see what you have or haven't sold yet. Same for if you're trying to figure out what to make/do to get those items to sell. It's come in handy for me so I didn't recreate something I'd already sold and didn't need to sell again. This also includes a list of the cooking recipes and ingredients