Tokimeki Memorial Girl's Side 1st Love Plus
Clothing and Date Responses Assistance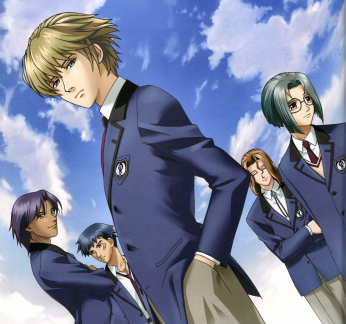 Clothing Types
Explanation~
Welcome to the
Tokimeki Memorial Girl's Side Clothes Page
. If you haven't come here already knowing what this page is for, let me briefly explain. Tokimeki Memorial is a
otome
game where you play the main character and try to win over your love interest while succeeding in other tasks. One of those tasks is to dress properly according to the boys' taste in clothes which are categorized as
Pure, Sexy, Elegant, or Sporty
. There are stores that tend to tell more of one type than another, but that DOES NOT mean every item in the store belongs to that type. As such, it's very easy and common to mismatch clothes (especially when putting 3 pieces together like the top, under, and bottom).
I've made this table to help give image and name to the category each item belongs to. This will help you both learn the styles faster as well as save money on buying clothes (since you won't mistake a shirt for one type and end up with non-matching outfits). The table is sorted with categories (pure, sexy, elegant, and sporty) as the rows and the clothes type (top - jackets, under - shirts, bottom - pants/skirts, allover - one-pieces, and swimsuits). To find, for example, a sporty one-piece outfit you'd go to the fourth row and go over to the "Allover" column. Click the Pic/Name List to make the items list appear. The image/sprite of the clothes will be on the right with the name of the clothes on the left (NOTE: changes in names due to different translations).
I hope this table and page will help you pick your outfits wisely and happily. I've grayed out the clothes because there is more than one color per piece of clothing (even though it's the same clothing, the different colors counts as a completely different piece of clothing and as such will not negatively affect your date to go from one color to the next).

DATE RESPONSEs
Explanation~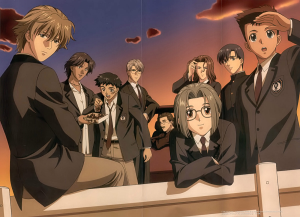 Welcome to the
Tokimeki Memorial Girl's Side Date Responses Page
. If you haven't come here already knowing what this page is for, let me briefly explain. Tokimeki Memorial is a
otome
game where you play the main character and try to win over your love interest while succeeding in other tasks. To win their hearts you have to go on dates with them. This isn't that hard but the correct response matters a lot. So over the course of my playing, I tried to keep track of what they asked and which was the best response.
Take note that sometimes the best answer will only get you a "so-so" grade. This is usually due to the location being disliked by the guy. There is likely some questions I haven't come across yet (ESPECIALLY for Kijyo Madoka). More coming eventually. Best of luck!
Jump To:

Amanohashi Ikkau
Principal
| Location | Question | Best Answer | Result |
| --- | --- | --- | --- |
| Drive | I've been talking a lot today… When I'm with you, I can't help turning myself into a talkative man. | I also had a good time. | Great |
| Drive | Okay, let's go. It's going to be just the two of us here. | I feel a little nervous. | Pretty Well |
| Indoor Pool | Actually, swimming is my specialty. I had a lot of trainings when I was a student. | Wow! That explains those muscles! | Great |
| Indoor Pool | Are you good at swimming? | I'm okay at it. | Pretty Well |
| Indoor Pool | When I find some time, I often come here alone to swim. | Let's swim together from now on. | Great |
| Planetarium | Hm, the show was lovely. Perhaps I should hear your impressions, NAME. | The twinkling stars were romantic… | Great |
| Planetarium | It feels like I can purify my heart when I watch beautiful stars. | I also love pretty things. | Great |
| Planetarium | There were only a few people out today… Were you cold? | I'm okay. | Pretty Well |
| Sky Lounge | I come here sometimes after work. The restaurant here is quite decent. | The night view here is very beautiful. | Pretty Well |
| Yacht | You'll get sunburnt if you don't wear a hat, NAME. | Oh no. I have to protect my skin! | Pretty Well |
Top

Hazuki Kei
Classmate
| Location | Question | Best Answer | Result |
| --- | --- | --- | --- |
| Amusement Park (Bungee Jump) | You jumped quite well. …Did you enjoy it? | It was just a blink of time so I don't know. | Pretty Well |
| Amusement Park (Ferris Wheel) | The ferris wheel is like a special place, even though it's in the amusement park... | It's calming. | Great |
| Amusement Park (Haunted House) | …Those ghosts must have so much fun scaring us… | I was really scared. | Pretty Well |
| Amusement Park (Haunted House) | There are a lot of ghosts in there that somewhat look like you. | They are actually my comrades! | Pretty Well |
| Amusement Park (Haunted House) | They looked so real… Although I've never seen a real ghost. | I got shocked every time they appeared. | Pretty Well |
| Amusement Park (Merry-Go-Round) | …Merry-go-round… | It was a little embarrassing. | So-so |
| Aquarium | I haven't been to the aquarium for a while… It feels nice. | It's like art within the water. | Great |
| Beach | Beach, huh? What are we going to do? | I want to spend time leisurely at the shore. | Pretty Well |
| Botanical Garden | It's my first time in a botanical garden. It's better than I thought… | The air is fresh when you're among plants. | Great |
| Bowling Alley (Billiards) | Is nine-ball okay? | I would be glad if you taught me how to play. | Great |
| Bowling Alley (Bowling) | It's about time we start. | We're just playing, so let's take it eay. | Pretty Well |
| Bowling Alley (Table Tennis) | It's about time we start. | We're just playing, so let's take it easy. | Pretty Well |
| Fireworks Festival | Aren't they beautiful? When I watch fireworks, I forget that time passes… | They were like flowers in the night sky. | Great |
| Fireworks Festival | Fireworks… No matter how long it takes to make them, they are momentary things. | But I will never forget today's fireworks. | Great |
| Forest Park | …It's hot. | The sunlight is really radiant. | Great |
| Forest Park | It's winter… | The sky is really clear in winter. | Pretty Well |
| Forest Park | The lawn's color looks nice… | It just makes me want to lie down on it. | Great |
| Forest Park (Sakura Viewing) | A cherry bloddom blizzard… It really does look like snow. | This scenery can only be enjoyed now. | Great |
| Forest Park (Sakura Viewing) | I'm hungry… | I made a lunchbox for this occasion. | Great |
| Game Center (Medal Corner) | What do you want to do today? | How about black jack? | Pretty Well |
| Game Center (Music Corner) | NAME. Do you like this game? | Yeah, I love it! | Great |
| Game Center (Video Corner) | What do you want to do today? | There's a plush toy that I want. | Pretty Well |
| His House | …This is my room. | It's a wonderful room. | Great |
| Indoor Pool | Can you swim? | If it's swimming, leave it to me! | Pretty Well |
| Karaoke | So, what shall I sing…? | How about this new release? | Pretty Well |
| Maple Leaves | All the leaves have changed color… | Every tree is multi-colored, it's so pretty. | Great |
| Maple Leaves | The mountain's colors look refreshing… | It's nice being able to feel the four seasons. | Pretty Well |
| Maple Leaves | These maple leaves look like babies' hands. | They're so small and cute. | Pretty Well |
| Museum | "Romance of the ancients," huh…? | This primitive man looks just like you. | Pretty Well |
| Planetarium | I wonder what kind of person came up with the constellations… | Surely someone who loves star gazing. | Great |
| Planetarium | It's nice… This planetarium… | That star was shining some million of years ago. | Great |
| Waterfront Park (Giant Ferris Wheel) | Did you have fun riding on the Ferris wheel? | Yeah, the view was nice. | Great |
| Waterfront Park (Giant Ferris Wheel) | This will be a nice place when someone wants to be alone. | You wanted to ride it by yourself? | Pretty Well |
| Waterfront Park (Tower) | …This viewing platform is high up. | It shows us the town from another angle. | Pretty Well |
| Waterfront Park (Tower) | As expected, this place is high up. | Cheaper admission. | Pretty Well |
| Waterfront Park (Tower) | We're so close to the sky… | It'd be nice if it reached outer space. | Great |
| Waterfront Park (Walkway) | …The couple over there is wearing clothes as a pair. | Their casual matching clothes look nice. | Pretty Well |
| Waterfront Park (Walkway) | They have built many buildings around here. | I hope there wouldn't be too many buildings. | Great |
| Waterfront Park (Walkway) | This place is like a foreign streetscape. It somewhat… makes me want to go on a trip. | So, let's walk as if it were an unknown place. | Great |
| Zoo | If I were to compare you to an animal, I think you are… a cat. | Meow!! | Great |
| Zoo | Look… All of them are sleeping… | Yeah, their sleeping faces are cute. | Great |
| Zoo | That tiger is glaring at us. | it's jealous of how well we get along. | Pretty Well |
| Zoo | The lion cubs are over there. | They are so cute! I want to take them home! | Great |
Top

Hibiya Wataru
Underclassman
| Location | Question | Best Answer | Result |
| --- | --- | --- | --- |
| Amusement Park (Haunted House) | The haunted house was extremely fun! | I was really scared. | Pretty Well |
| Amusement Park (Night Parade) | NAME-sempai… The parade is extremely beautiful. | I forget about the time when I watch this. | Pretty Well |
| Beach | Sempai, what should we do? Shall we swim? | Let's swim with all our might. | Great |
| Bowling Alley (Bowling) | Bowling is my forte! I'm pumped up! | Let's compete to see who wins! | Pretty Well |
| Fireworks Festival | They were so beautiful. For me, they were the most impressive fireworks ever. | They were like flowers in the night sky. | Great |
| Forest Park (Sakura Viewing) | These cherry blossoms are in full bloom! So beautiful, right? | It's like we're in a dream world. | Great |
| Game Center (Video Corner) | Sempai, what should we do? | Fortunes. Let's see if we're compatible. | Great |
| Indoor Pool | Is swimming sempai's forte? | If it's swimming, leave it to me! | Great |
| Karaoke | Hmm, what should I sing? Sempai, what kind of song do you want to listen to? | What about this new release? | Pretty Well |
| Maple Leaves | Please look! Over there! Everything is completely red. | It looks like the mountain is burning. | So-so |
| Maple Leaves | The autumn leaves look beautiful. | Every tree is multi-colored, it's so pretty. | Pretty Well |
| Waterfront Park (Giant Ferris Wheel) | *phew* We've finally returned to the ground. | It felt as if I was floating in the sky. | Pretty Well |
| Waterfront Park (Tower) | NAME. Do you… see anything from there? | Hm, is my house around that area? | Pretty Well |
| Waterfront Park (Walkway) | Ah, they're selling accessories along the path! Sempai, which one do you like? | The cute one! | Great |
| Waterfront Park (Walkway) | Sempai, do you know this? The Waterfront Park is very popular among couples. | Yeah! It's the lastest date spot. | Great |
| Waterfront Park (Walkway) | They've built a lot of buildings around this area, lately. | This town will gradually become busy. | Great |
| Zoo | Sempai! Sempai! I think that gorilla is glaring at us. | it's jealous of how well we get along. | Pretty Well |
| Skating Ring | Is skating Sempai's forte? | If it's skating, leave it to me! | Pretty Well |
Top

Himuro Reiichi
Homeroom Teacher
| Location | Question | Best Answer | Result |
| --- | --- | --- | --- |
| Aquarium | Everyone seriously observed today. Good. Did you obtain any results? NAME? | I learrned the hunting methods of reef sharks. | Great |
| Aquarium | Okay, everyone is here… Now, I want to hear your impressions. One at a time. | Shrimps and crabs are in crustacean family. | Pretty Well |
| Aquarium | We will tour the building… But first, I will have students present their observation points. | Octopus is a must-see here! | Pretty Well |
| Botanical Garden | I think many of the girls here like flowers. Has anyone discovered anything new? | Flowers are not only beautiful. | Great |
| Botanical Garden | There are many fruits that give out sweet fragances. Can you think of a reason why? | So they will seem delicious? | Great |
| Botanical Garden | We have walked around the garden. I want to hear your opinions. Let's start from… NAME. | Tropical plants have very strange shapes. | Great |
| Cinema | A movie that makes you think… Everyone, what are your thoughts regarding this movie? | It made me think deeply about justice. | Great |
| Museum | Everyone, what do you think? Today we have a chance to see how our ancestors spent their lives. | I still doubt if the histories were true. | Great |
| Museum | Now, here's a question. What was that fossil of a primitive man you just saw? Anyone knows? | Homo erectus pekinensis. | Great |
| Museum | Take a look at these famous cars that have gone down in history… | They look more stylish than today's cars. | Great |
| Museum | We will start our tour around the building. Is there any special place you want to observe? | The natives' historic corner! | Great |
| Planetarium | Everyone, today's program finished. Does anyone have any questions? | How did they take the Milky Way's Photos? | Great |
| Planetarium | The focus of this program was introducing constellations. What do you students think of it? | It got me interested in myths and legends. | Great |
| Planetarium | The program has ended. I want to hear the student's thoughts. How about… NAME? | That star was shining some million of years ago. | Great |
| Zoo | Everyone just saw the giraffes. Do they have odd or even hooves? You will know if you trust your memory. | They are even-toes ungulates… So, even! | Great |
| Zoo | We will start our tour around the zoo. Is there any special place you want to observe? | The monkey center! | Great |
Top

Kijyo Madoka
Classmate
| Location | Question | Best Answer | Result |
| --- | --- | --- | --- |
| Game Center | So then, what should we do today? | There's a plush toy that I want. | Great |
| Maple Leaves | Amazing scenery… The entire mountain is dyed red. | Every tree is multi-colored, it's so pretty. | Pretty Well |
| Waterfront Park (Walkway) | They've built new buildings here and there. | There should be more recreation spots. | Great |
Top

Mihara Shiki
Classmate
| Location | Question | Best Answer | Result |
| --- | --- | --- | --- |
| Amusement Park (Bungee Jump) | How was my magnificent jump? | I thoguht I saw angel's wings on your back! | Great |
| Amusement Park (Bungee Jump) | Yeah, it was truly a wonderful attraction. | It was the best thrill. | Pretty Well |
| Amusement Park (Merry-Go-Round) | I am a sinner… Even by merely riding a ride, I attracted attention. | No one could look as good as you on it. | Pretty Well |
| Amusement Park (Merry-Go-Round) | Merry-go-round… what do you think? | This fairy tale atmosphere is amazing <3. | Great |
| Amusement Park (Merry-Go-Round) | What do you think suits me the best? | Of course, the white horse! | Great |
| Amusement Park (Night Parade) | …Beautiful. | It's like we are in a fairy tale. | Pretty Well |
| Aquarium | Only one word is needed to describe dolphins. That word is "elegant." | They're making such gentle faces. | Pretty Well |
| Aquarium | There are a lot of fish here. | It's like art within the water. | Great |
| Aquarium | Those elegant fish are also swimming with all their might. | That has a connection with beauty. | Great |
| Botanical Garden | Plants in here are pretty because of human's car, yet they are also beautiful by their natures. | That ambiguity is also charming. | Great |
| Fireworks Festival | Magnificent! Surely, fireworks are arts in the sky. | They were like flowers in the night sky. | Pretty Well |
| Fireworks Festival | You can't say you're watching fireworks if you can't hear these echoing sounds. | It's interesting that the sounds are delayed. | Great |
| Forest Park | It's hot… I would say that I don't handle heat well. | The sunlight is really radiant. | Pretty Well |
| Forest Park | Walking along the street like this also feels nice. | Falling leaves are romantic. | Great |
| Forest Park (Sakura Viewing) | Surely, cherry blossoms are in full bloom now. | It's like we're in a dream world. | Great |
| Maple Leaves | It is the season of autumn leaves. | Every tree is multi-colored, it's so pretty. | Pretty Well |
| Maple Leaves | Transient beauty… This scenery reminds me of beauty that exists within perishing things. | It was great that we came here! | Great |
| Museum | Ancient murals are the origin of art. I can feel my inspiration surging. | These are mankind's very first paintings. | Great |
| Museum | Seems like this section shows us how people in the ancient time lived. | I'm moved by the way our ancestors lived. | Great |
| Museum | Visual arts… These things motivate me to work on a new art piece. | Really? I'm glad we came here then! | Pretty Well |
| Museum | What exactly is that iron sphere used for? | Why don't you try riding on it? | Pretty Well |
| Waterfront Park (Giant Ferris Wheel) | It's called a giant Ferris wheel. It also took a long time to make one revolution. | Should we ride it once more? | Great |
| Waterfront Park (Giant Ferris Wheel) | That was quite some view. | I felt as if I was floating in the sky. | So-so |
| Waterfront Park (Tower) | As expected, I am suited to being in high places that feel like heaven like this. Don't you think so? | What kind of god would you be? | Great |
| Waterfront Park (Tower) | I see. The view is as nice as what people said. | We can see our town from another angle. | Great |
| Waterfront Park (Tower) | Looking at this world from above, it just leaves you speechless. | Looking from above is nice. | Great |
| Waterfront Park (Walkway) | This place keeps changing every time I visit. It's as if it were alive. | I hope there wouldn't be too many buildings. | Pretty Well |
Top

Morimura Sakuya
Classmate
| Location | Question | Best Answer | Result |
| --- | --- | --- | --- |
| Amusement Park (Ferris Wheel) | Ah! I left my handkerchief on the ferris wheel! | I'll speak to the person in charge. | Great |
| Amusement Park (Ferris Wheel) | It was neither long nor short. Such mysterious time we spent up there. Did you enjoy it? | It was a nice view. | Pretty Well |
| Amusement Park (Ferris Wheel) | When we rode that slow gondola, did you feel that even time was flowing slower, too? | It felt like I benefited from it a little bit. | Great |
| Amusement Park (Haunted House) | *phew*… Are you all right? | I wasn't scared because you were with me. | Pretty Well |
| Amusement Park (Merry-Go-Round) | …It's been awhile since I rode the merry-go-round. | I wanted to ride on the pumpkin carriage. | Pretty Well |
| Amusement Park (Night Parade) | Amazing… It really is beautiful. | It's like we are in a fairy tale. | Pretty Well |
| Amusement Park (Roller Coaster) | *pant* *pant*… I-it's finally over… | I was scared so I closed my eyes… | Pretty Well |
| Aquarium | I heard there's a TV show overseas that has live broadcast of a fish tank. | The TV is a substitute for a fish tank then. | Pretty Well |
| Aquarium | Wow… There are various kinds of fish. How beautiful. | It's like art within the water. | Pretty Well |
| Botanical Garden | Even though the plants are silent, they speak out eloquently to us. | It would be nice if plants could speak. | Pretty Well |
| Botanical Garden | I often come to this botanical harden to change my mood. | The air is fresh when you're among plants. | Pretty Well |
| Botanical Garden | This facility recreates the ecosystem of tropical rainforests. | Are there also animals, too, then? | Great |
| Bowling Alley (Billiards) | Actually, billiards is my forte. | I'd be glad if you taught me how to play. | Great |
| Bowling Alley (Bowling) | Um, is bowling your forte? | We're just playing, so let's take it eay. | Pretty Well |
| Bowling Alley (Table Tennis) | It's been awhile since I played table tennis. I wonder if I can still play… | We're just playing, so let's take it eay. | Pretty Well |
| Fireworks Festival | …How beautiful. It surely is the art of light. | They were like flowers in the night sky. | Great |
| Forest Park | It is even colder today. | I feel that the air in winter is clear. | Great |
| Forest Park | It's hot… But the sun's ray are mixing with the green of the trees. | It's the sun's blessing | Great |
| Forest Park | Parks with many broad leaf trees look nice in the fall. | Falling leaves are romantic. | Great |
| Forest Park | There are clovers growing around this area of the lawn. | I wonder if there are four-leaf clovers. | Pretty Well |
| Forest Park | This year's autumn leaves are especially splendid… | Why are there red and yellow leaves? | Pretty Well |
| Forest Park | Today is hot. I am sweating. | The sunlight is really radiant. | Great |
| Forest Park (Sakura Viewing) | Wow… It's extremely beautiful. A cherry blossom blizzard! | It's like we're in a dream world. | Great |
| Forest Park (Sakura Viewing) | Wow… They're blooming beautifully. They let us enjoy this scenery again this year. | What is this kind of cherry blossom called? | Pretty Well |
| Game Center (Medal Corner) | Ah, my tokens are all gone… I'm really bad at this… | That's fine. I'll surely gain them back. | Pretty Well |
| Game Center (Medal Corner) | Well… Which one would you like to play? | Let's try to win those candies! | Pretty Well |
| Game Center (Music Corner) | Do you like this music game? | Yeah, I really like it! | Pretty Well |
| Game Center (Video Corner) | Then what do you want to try today? | There's a plush toy that I want. | Great |
| His House | Come in. Please enjoy yourself. If there is a book you would like to read, feel free to do so. | Rather than that, I want to chat with you. | Pretty Well |
| His House | Please come in. I can't offer any kind of entertainment, though. | It's a wonderful room. | Great |
| Indoor Pool | Please go to swim. Don't worry about me. I will be watching from here. | Okay… Well, I'm going for a swim. | So-so |
| Indoor Pool | Umm, is swimming your forte? | I'm okay at it. | Pretty Well |
| Karaoke | Now then… What should I sing? | Sakuya, sing your favorite song. | Pretty Well |
| Maple Leaves | After the trees change colors, we will soon have to face winter. | The mountains are also preparing for winter. | Pretty Well |
| Museum | There are a lot of things on display that are of great interest. | I'm moved by the way our ancestors lived. | Great |
| Planetarium | >skipped< | That star was shining some million of years ago. | Great |
| Waterfront Park (Giant Ferris Wheel) | It really was a huge Ferris wheel. | It felt as if I was floating in the sky. | Pretty Well |
| Waterfront Park (Tower) | Ah! Please look at the sea! There is a pod of dolphins… | You're right. How cute. | So-so |
| Waterfront Park (Tower) | Wow~! What a nice view. | Hm, is my house around that area? | Pretty Well |
| Waterfront Park (Walkway) | *phew*… The wind blowing from the shore feels pleasant on my skin. | You're right. It feels nice! | Pretty Well |
| Waterfront Park (Walkway) | This area around here has changed quite a lot… | I hope there wouldn't be too many buildings. | Pretty Well |
| Waterfront Park (Walkway) | Walking on the brick road is a bit romantic. | Because we are walking together. | Pretty Well |
| Waterfront Park (Walkway) | Walking on the brick road is a bit romantic. | It's like a scene from a drama. | Great |
| Zoo | I somewhat feel that the koala over there is looking at us… | it's jealous of how well we get along. | Pretty Well |
| Zoo | There they are!! The lion cubs! | They are so cute! I want to take them home! | Pretty Well |
Top

Suzuka Kazuma
Classmate
| Location | Question | Best Answer | Result |
| --- | --- | --- | --- |
| Amusement Park (Bungee Jump) | Whoa! That felt really good! | It was the best thrill. | Great |
| Amusement Park (Night Parade) | It's so bright and flashy. | I can't stop staring at it, for some reason. | Great |
| Amusement Park (Night Parade) | Oh, the parade is approaching! | I forget about the time when I watch this. | Great |
| Amusement Park (Roller Coaster) | *phew~* It feels good. I want to ride again. | Should we ride it until we've had enough? | Great |
| Amusement Park (Roller Coaster) | The roller coaster was fun! | The feeling of speed was the best! | Great |
| Amusement Park (Roller Coaster) | When you drop down, you have to say "Banzai"! | It's more thrilling to let your hands fly. | Great |
| Aquarium | Oh! They're feeding the fish. | Feeding that many fish must be a tough job. | So-so |
| Aquarium | Oh! They're feeding the fish. | I also want to try feeding them. | Pretty Well |
| Aquarium | Oh, as expected of an aquarium, there are lots of fish swimming. | I wonder if the fish here are edible. | Pretty Well |
| Beach | Hey, NAME! There are crabs over there. Let's go! | Yeah, let's try catching some! | Great |
| Beach | The sunlight sure is strong. | Then let's hurry up and get into the sea. | Great |
| Beach | Yeah! Let's swim throughout the whole day! | Let's swim with all our might. | Great |
| Bowling Alley (Bowling) | ARGH! It's a 7-10 split!! | It would feel good if you could get both. | Great |
| Bowling Alley (Bowling) | As expected, rolling it right to the middle feels awesome! | It makes you feel exhilarated. | Great |
| Bowling Alley (Bowling) | I'm itching to use my skills. Now, let's hurry up and start already! | Let's compete to see who wins! | Great |
| Bowling Alley (Table Tennis) | Table tennis, huh… Let's play for real. | Let's compete to see who wins! | Great |
| Fireworks Festival | Woah, how amazing! Fireworks are the best!! | They were like flowers in the night sky. | Great |
| Forest Park (Sakura Viewing) | We're surrounded by cherry blossoms. | You can only enjoy this scenery now. | Great |
| Game Center | All right, what should we do? | Let's play the fighting game! | Pretty Well |
| Game Center (Video Corner) | Let's compete again the next time we come here. | Yeah, the fighting game gets me excited. | Pretty Well |
| Game Center (Video Corner) | That was close! I was so close to clearing the whole thing. | All right! Let's play until we win. | Pretty Well |
| His House | This is my room. W-Well, sit wherever you want, | It's a boyish room. | Great |
| Indoor Pool | Heated pools are great because you can swim in it all year round. | Yeah, you can swim whenever you want. | Great |
| Indoor Pool | Hey, can you swim? | If it's swimming, leave it to me! | Great |
| Indoor Pool | Let's do warm-ups before we go into the pool. It will prevent your legs from straining. | Of course! I'm always careful. | Great |
| Maple Leaves | Hey, take a look. The mountain is overflowing with autumn leaves. | Roasting yams with the leaves seems yummy. | Pretty Well |
| Maple Leaves | We're just going on an ordinary walk. | Let's try to encounter a bear. | So-so |
| Skating Ring | Hey, do you like figure skating or speed skating? | Isn't it a given that it's speed skating? | Great |
| Skating Ring | Is skating your forte? | If it's skating, leave it to me! | Great |
| Skii Slopes | Hey, let's compete to see who reaches the bottom first! | Okay! I'm going to win no matter what. | Great |
| Waterfront Park (Tower) | Hey. It feels like we are flying through the sky when we're at such a high place… | Yeah, it would be nice if we could fly freely. | Great |
| Waterfront Park (Tower) | If you lived at such a place high up like this, what do you think it would feel like? | You would feel like a god. | Great |
| Waterfront Park (Tower) | Whoa~! This place is high up… | We can see our town from another angle. | Great |
| Zoo | Oh, there they are! The lion cubs! | They are so cute! I want to take them home! | Pretty Well |
Top